MAD Camp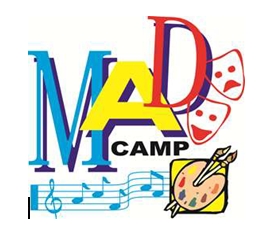 Looking for something fun and different for your kids? 
MAD (Music, Art, and Drama)  Camp:   "Pharaoh Said No!"  
August 19th through 23rd from 9am – 12 pm.   This fun-filled week will include music, drama, art, games and snacks.   All children who have completed preschool through 6th grade are welcome.   Camp is held at the church (4301 Mt. Read Blvd. at the corner of English Rd.) from 9:00 am to 12:00 pm.  There is no cost for this great summer opportunity.     Pre-registration is required by August 14th.  
View the Registration Form below.  Click on the icon in the upper right to open the form that you can print, fill-out, (1 for each child) and mail to Cathy Coe at the Church office, 4301 Mt. Read Blvd, Rochester, NY 14616 ...or call the church office at 865-1866 x 2 to have a form(s)  mailed out to you.
 As is always the case, we need many helpers to make the week possible. Volunteers are needed to help with all areas, including music, art, drama, snack, and playground. Please watch for the signup sheet in the Narthex and don't forget to volunteer.  Whether you can do all five days, one day, or anything in between, your help and support will be a blessing to you and the kids we have the privilege of working with during the week.  As you can tell, we're really looking forward to the summer! 
Needed are helpers in music, art, drama, recreation, kitchen, check-in,  first aid and more. Even if you can only help out one day we will be glad to have you!  Sign up sheets are in the narthex on the easel near the stairs. 
Also needed are snack and drink  items:  8 oz. and 16 oz. Bottled water, Apple juice,  Kool Aid canisters (Tropical Punch  flavor),  Gatorade, Goldfish Cheddar Crackers, Chex Mix (Traditional flavor), Plain M & M's , Mini Pretzels, and Cookies. NO NUTS of any kind!! Donated items may be placed in the designated box under the table by the stairs.